Submitted by

radj

on Wed, 2014/06/18 - 9:06pm
I'm planning to organize DSD sessions (Discover Scuba Diving) at most once a month and if you're here, that means you're interested and just have a couple of questions you want to ask. After taking 5 groups of buddies to DSD, here are the questions that I usually get.
Is it safe? Yes.
Like anything done in life (driving, travelling, drinking, etc), you remain safe if you stay within the safety standards. The 1st item in Top 10 Scuba Diving Myths explains how diving is not that dangerous. It's a great article, by the way. You are more likely to be in an accident on your way to the dive spot than during the actual dive. Crazy, right?
The idea here is to play safe, slow & easy, my children. My friends know me for someone who isn't an andrenaline junkie. I don't even play sports, not a mountaineer. If I felt diving was dangerous, I wouldn't have thought of going into the water again. But here I am, loving everything about diving and the sea.
Do we need to be licensed or certified to dive? No.
No, you do not. That is what the DSD is for. It is for scuba diving virgins. You will be taught basics about gear, how to use them, hand signals, and diving guidelines. What you will learn in DSD though is a subset of skills taught in certification.
Isn't the water pressure under the surface going to hurt my ears? No.
If you noticed pressure in your ears when you try free diving in a pool or shallow seawater, you feel discomfort in your ears. There is actually a way to counter act the pressure. You will be taught how to do that in the DSD orientation.
Are swimming skills needed? No.
You do not need to be an expert swimmer. It can be enjoyed better if you know how to but it's not required. Even the disabled (preferrably dive-abled) got to dive. When I first joined my dive group's Christmas party, they invited a couple of PWDs: a blind, a deaf-mute, and one with physical irregularities. They all enjoyed the dive! I was amazed. What's your excuse?
It looks dark down there. Is there anything to see? A lot.
How else would I get awesome pics on my Instagram if there was no light down there? Scientifically, light diminishes the deeper we go but even at a hundred feet, light is still abundant and we won't even be going that deep. From the surface, it looks dark because there is no light source from the bottom but if you're already down there, there's still light from the sun, and you can clearly still see everything around you. Water clarity will still be a huge factor in the distance you can see but there will still be light.
Who is the dive instructor?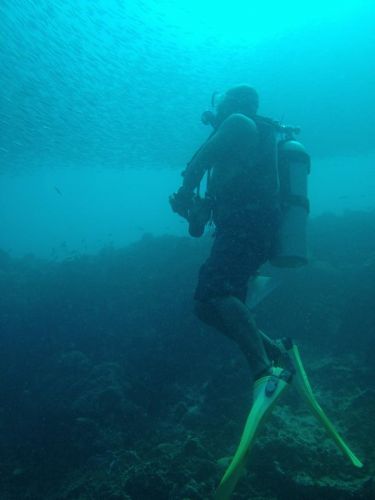 We will be diving with Francis Abelgas. He is a PADI-certified dive instructor and the lead of Hukas Divers. Yes, he likes to hukas (topless) when he dives. It takes a lot to get to dive instructor level, yo.
We will also be diving with a dive master to assist him which is usually Brian Paulino (the one with the whiteboard and Mickey Mouse hood) who I've also dived with a handful of times.
What I like about these people is their patience with beginners. These are the same guys I dived with on my DSD and certification. If I had different people handle my DSD, I may not have enjoyed it that much, didn't get certified and missed out. These are the same people that led the dive with the PWDs. You are in really good hands. With good attitude, too.
So far I've dived 4 other dive sites without this dive group and I can safely say, not all dive guides are the same. Luckily, I've been with only one dive guide who I disapproved of.
How much is it?
I'm not going to lie. It's a little expensive but if it turns out that it's for you, you will find it worth the price. A base fee for one-dive DSD is PHP 2500 per person. If going in for a second dive on that day, it's an additional P500. The base fee already includes the gear, orientation, and the dive guides who will dive with you. We will also need to pay the dive spot P150 entrance fee (or depends on where we decide to dive).
Is there a discount? Yes!
Glad you asked. Yes, there is. If I pool up at least 5 people to go on DSD, Francis will deduct P500 of the total free for each person. So instead of paying PHP 2500 for the base fee, it'll only be PHP 2000 per person. It's like getting a second dive for free! However, I would like us to limit up to 6 people only to make the dive safer and the ratio of dive master to divers low.
Where will it be?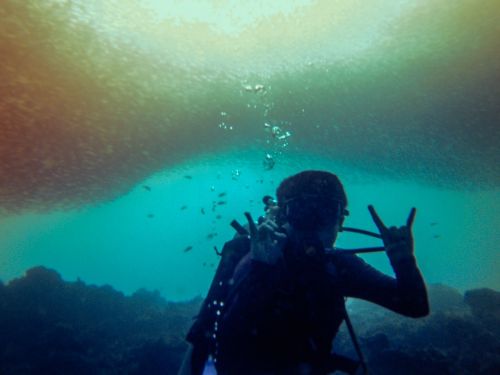 We usually do our DSDs at Kontiki, Mactan. Click here for the Google map. Kontiki is known for it's sardine run (lots of sardines in photo above) and corals. It's not very obvious to the regular beach goer like you but there's a really awesome sea wall (drop/kantil with lots of corals) around Mactan. Where there are corals, there's lots of fish. It's a symbiotic life down there. We can also do a boat dive so we have a choice of the nearby islands to dive in. Awesome.
Can we do our DSD somewhere else? Totally.
We have lots of options. There's usually a DSD anywhere there's a dive shop but my top options in Cebu would be in Malapascua, Daan Bantayan and Panagsama, Moalboal. Logistics will be a different story though! Email or PM for deets!
How long does it take?
You should block off a whole day for the dive. This includes travel time, dives, and lunch. If doing a boat dive, it could take even longer since we need to travel to the dive spot. It's like an island hopping session + scuba dive. Fun! A single dive for beginners ranges from 40 to 50 minutes.
We usually target to meet up at Kontiki by 9AM. Yeah, divers want do proceed slow, steady, & easy. But we like to be on time :)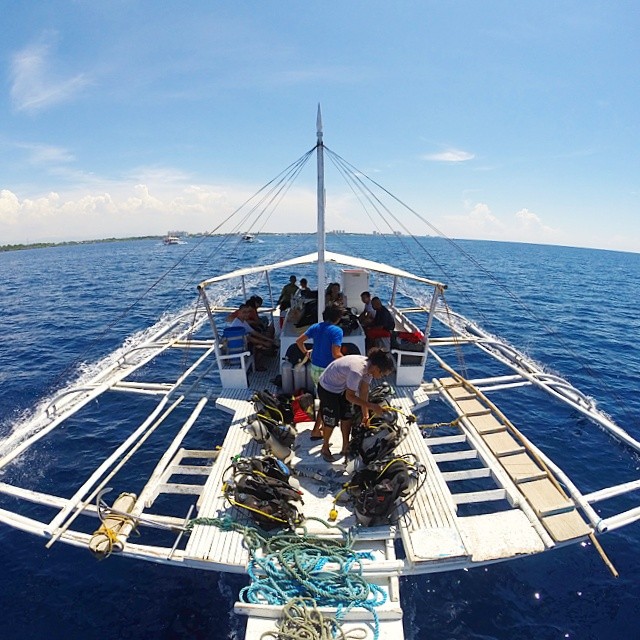 How much would a boat dive cost?
We would add an additional PHP 4500 for the whole crowd on top of the individual dive fees as a separate add-on. This includes the boat, of course, and the crew will be helping us with loading and unloading our gear from the dock, and in/out of the seawater. That shit's heavy! Haha. This fee also includes the docking fee at Kontiki. If we do a boat dive, we don't have to pay for entrance fee.
The additional fee will be split by all people on board except the boat crew and the dive guides. So if there's 5 of you in the DSD group + me, we will chip in additional P750 per person for the boat. Usually, there are other licensed divers that would share the boat with us so our boat fee share could be much lower.
Additionally, like island hopping and depending on the island, we will need to pay sanctuary fees at our dive spot. This ranges from an additional P100 to P300 per person depending on the dive spot.
What about gear? What do we need to wear?
Gear will be provided: fins, vest/BCD, mask, boots, and tanks. For your wardrobe, you can rent a wetsuit from Francis for P150 but we don't recommend it. It's such a struggle to put on. We recommend you bring your own rashguard (long-sleeved swimwear) and swimshorts. Bikinis are more than welcome for more badass photos. No joke.
What are we having for lunch?
We can usually get lechon manok or a bucket at Jollibee. We always make sure to bring something to share.
What if I have ear problems?
You are advised to check with your doctor first but if you feel like giving it a try without visiting a clinic, you are welcome to. With basic skills, you will be taught how to equalize ear pressure as we descend during the dive. If it becomes unbearable, you can gracefully abort the dive.
What if I have bad eyesight?
Diving is a visual sport. Better eyes means better appreciation. However, if you can still clearly see 2 meters infront of you, I think you'll be fine since we'll be getting close to corals and some fish. If you are concerned, you can wear contact lenses because it won't block the dive mask like eyeglasses do. But hey, even the blind went diving, right?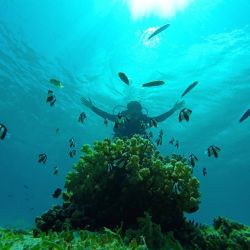 The next following questions are not usually asked but I'm putting 'em here just in case you were wondering.
Why do you organize this?
The world is an aeroplane and there are no passengers, all crew. As a citizen of the world and as someone who has become informed of how much we actually need the ocean and marine life, I would be doing a small part by sharing the diving experience to you, and increasing awareness in the general public especially in Cebu where #literasea and care for the ocean isn't very high even though we live in an archipelago surrounded with all these amazing dive spots.
Why should I dive?
On top of having a really awesome profile picture, you should dive for the otherworldy experience. One, the peace underwater. Just the sound of your breathing, floating, weightless, as if you were in outer space. For a day in your life, you're an underwater astronaut. Two, it's just an entirely different world under the sea. I was once content on being a beach bum, enjoying the sand and the waves. But once I got under the fold, I'm never just content with staying on the surface anymore. I need to go deeper. There are things you see in scuba diving that being on the shore and snorkeling just can't get you.
Divers from all over the world (yes, all over) flock to our little country just to dive. Do you really want to be missing out on that?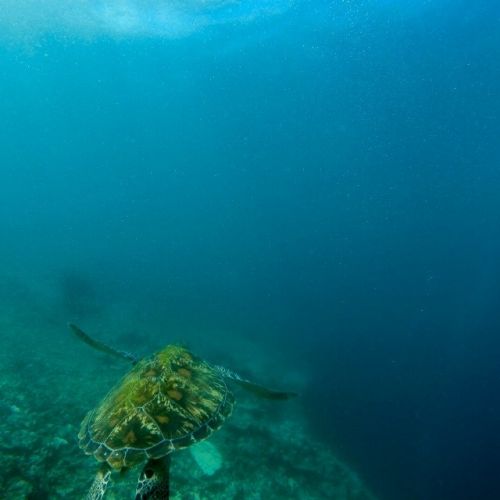 Update 2014/07/15: I took my buddy Diana on her DSD on July 13. Here's what she thought of the experience!
Update 2015/10/05: I've taken more than a handful of people to DSD trips but not all of them make writeups. So thank you, Cathy, for this cool post about your DSD!
Update 2015/11/22: Do you want another nice location for a DSD? Our friends at Divelink Cebu in Malapascua have an awesome #BarelyWetWeekend DSD promo! Check it out.